Feb 21, 2009
John Mucci accompanies
Silent flicks in February at the historic
Cannon Grange,
Wilton CT
KEATON's
The Cameraman

and
CHAPLIN'S
"The Cure"
MACK SENNETT'S "A Dash Thro' the Clouds"
...as well as a scandalous Nickelodeon offering from the St. Louis Expo of '93--FATIMA!
.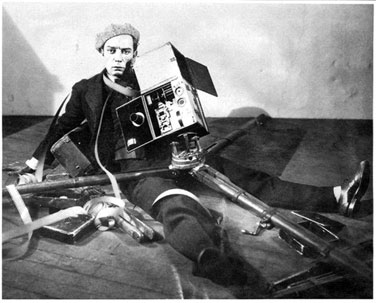 Buster Keaton wrapped up in his own work in The Cameraman
.
---
Some of the best Classic Silent Film comedies will be shown with live piano accompaniment at the Cannon Grange, in Wilton, CT on Saturday, February 21, 2009 at 7:30 p.m.. Children and adults will enjoy some seldom-seen shorts and a classic Buster Keaton feature from the golden age of silent cinema.

Noted silent film accompanist John Mucci of Wilton will play a live score. 16mm film prints are from the his collection as well as that of film historian and teacher Lou ("The Great") Sabini of Stamford.

Refreshments will be served at 7:00 pm, and the films will begin shortly thereafter with intermissions between the reels. If you've never seen silent films with live accompaniment, with a room full of people laughing like they've never laughed before, you owe it to yourself to experience it!
REMEMBER TO FORWARD THIS TO A FRIEND:
PACK THE HOUSE and LAUGH IT UP!

The Grange is charging $5 donation, or $20 for families.
The Cannon Grange Hall is located at 25 Cannon Road has ample parking there and across the road at the Cannondale Railroad Station. See below for directions. As a matter of convenience, Metro-North stops at the Cannondale station on the Danbury line. See the train schedule below.
---
ABOUT THE FILMS:
Buster Keaton THE CAMERAMAN (1929)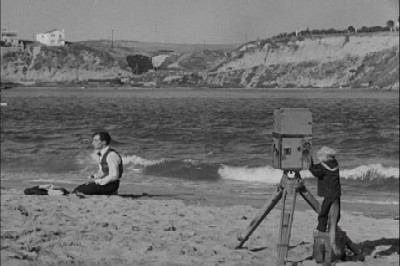 Buster and Clementine,
( part of the love interest)
Buster's last silent feature, made for MGM, The Cameraman is the story of a young man who makes his living as a tintype photographer. He falls in love with a woman who works at a newsreel bureau, and cashes in his old camera to buy a motion picture camera in hopes of getting closer to her. He shoots some of the most perplexing footage ever to be screened in a newsroom, including a terrific Tong War sequence in Chinatown. You can read a synopsis of the whole film on Wikipedia here (but beware of spoilers!) Some of the film was shot on the streets of 1928 New York City--in fact, the film features a spectacular tour-de-force in which Buster plays a game of baseball by himself in the brand-new Yankee Stadium, just then built (--that is, the one they are now tearing down).
---
Charlie Chaplin THE CURE (1914)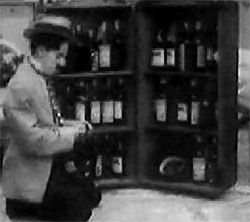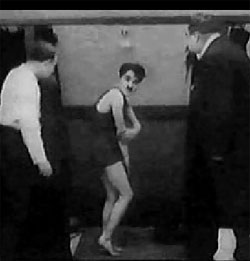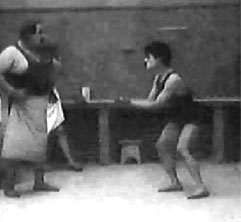 Mabel Normand giving 'em the gun in Sennett's A Dash Thro' The Clouds
One of Chaplin's best Mutual shorts, THE CURE is an hilarious effort to show the real skinny behind a spa that has both a restorative gym and a spring with pure, unadulterated water that has healing powers. This would be just fine, were it not that Charlie's character is that of a roaring lush whose trunk is packed as a very handy portable bar filled with ardent spirits.
While alcoholism is not a humorous thing in itself, pre-World War One humor certainly had an enduring character in the inebriate who manages to create havoc and (as in this case) make things right again in the end. Charlie does finally swear off the booze by the fade-out, as the love of his girl (the impervious Edna Purviance) is more alluring than prospects of chasing down the next dram.
BUT THERE'S MORE...!
---
In 1909 Mack Sennett and his girlfriend, Mabel Normand, made the first motion picture for distribution from Hollywood featuring an airplane in flight. Yes, "A Dash Thro' The Clouds" is a truly hair-raising adventure, full of last-minute rescues and threatening lunatic rogue braseros from over the border. Mabel is in love with Chubby, but changes her alliance to Slim by the end. Moreover, she gets to fly in (and shoot guns from) a Wright Brothers "Model-B aeroplane," flown by Wright pilot Phil Parmalee, (who in real life tragically died in a plane crash a few months after this was filmed). You can see a scene from the Sennett film here. Since we seldom get to see a Wright plane in flight, this is a short film that is truly extraordinary.
And more than that...
For too long the world has gone without seeing Fatima, the infamous Coochie-Cootchie girl from the St. Louis Expo of 1893. Edison had Fatima re-create her "danse du ventre" in his Black Maria studio in 1896, and was such a desirable property that men would line up to see it, mainly at the Nickelodeon (where it was displayed as a wheel of sequenced still pictures viewed through a machine for which you needed to put in a nickel and turn the crank). Civic morality was bruised, however, and Edison had to supply a censored version to placate those who didn't want to keep audiences from Fatima's considerable charms altogether. We will be showing both versions--the discrete censored version that looks like it was shot through a picket fence, and the scandalous uncensored version, where mothers may cover their children's eyes for fear of contamination from the brazen undulations of the dread Cootchie dance. Here's Fatima in action: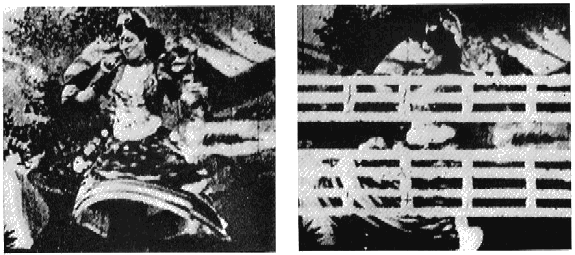 NOTE! I have recently finished scoring a double DVD of a dozen DW Griffith's Biograph short subjects, available through ReelClassisDVDs. These include classics (such as "The House With Closed Shutters") and some lesser-known works. One of the latter is "For His Son" -- a jaw-dropping film about a man who invents a wildly popular soft drink liberally laced with cocaine in order to keep his son rolling in dough. The son, of course, comes to a bad end, making it truly one of the most alarmingly depressing 12 minutes you'll ever see, but powerfully done with Griffith's inimitable style.
I've also recorded a score for the rare Hal Roach Film "No Man's Law" (1927) that features Oliver Hardy as a very credible villain (!), for the same firm, ReelClassicDVDs. It's a great, unusual film, also starring Rex the Wonder Horse who saves the day (well, partially; the hero takes some credit). The DVD comes with a short as well: The Fall Guy (1921), with Larry Semon. I've also recorded another disc for ReelClassics, an oddly poetic Robinson Crusoe (1927), and crazy, early film I found on eBay that otherwise isn't well known, the Mystery of Dead Man's Isle (1915).
To read more than you need to know about me, see my website.

If you'd like to unsubscribe from my mailings, click here and it'll happen automatically .

For more information, call me at 203-722-6751
or the Grange at 203-762-1900.

Directions to the Cannon Grange, Wilton, CT
The Cannon Grange is off Rt. 7 in Cannondale, just as you pass Wilton Center heading north. You pass Wilton HS, then the Wilton YMCA, and Cannondale is the next intersection on the right. Cross the railroad tracks and the Grange is on your right. Park either in the Grange lot or at the train station, to the left.

View the Google Map


Train Schedule from South Norwalk to Cannondale (Danbury Line) on February 21:

Leaves Norwalk - Arrives Cannondale - Mins.
3:11 PM - 3:31 PM - 20 mins.
6:11 PM - 6:31 PM - 20 mins.
10:11 PM - 10:31 PM - 20 mins
Return Trains to South Norwalk
8:09 PM - 8:30 PM - 21 mins
11:50 PM - 12:11 AM - 21 mins.