There is an unhappy fate concerning Marie Galante, the French musical play Kurt Weill wrote with Jacques Deval: three or four of its most famous songs are becoming more and more popular, while the play itself and much of the remaining music from it are falling into obscurity.

Deval wrote the novel Marie Galante in 1931, and it was made into a Hollywood film shortly before he adapted it for the stage in 1934. While both the novel and the film have survived in their final versions, many elements of the play remain, in retrospect, a mystery.

Jacques Deval (pseudonym for Jacques Bouleran, 1894-1972), was a novelist and playwright, with more than forty works to his name in French and English. His father was director of the Théâtre Athenée in Paris, where his first play, Une Faible Femme, premiered in 1920 (produced as A Weak Woman in 1926 in New York). According to The Encyclopedia Of World Theatre (1977), Deval came to the United States in the 1930s, where he wrote several plays first in English, including Lorelei (1938), Behold the Bride (1939), and Oh, Herbert! (1945). During World War II, he served in the United States Army. A story recounted by fellow soldier is that while they had returned from the front and were dressed in whatever was at hand, Deval showed up dressed to the nines, resplendent with medals, which he appropriated from a Hollywood prop room! After the war, he returned to France, where he earned a reputation—perhaps undeserved—as a writer of light, Boulevard-style entertainments.

Other plays of his which have been produced in English include Her Cardboard Lover (1927—starring Leslie Howard on Broadway), Mademoiselle (1932), and Tonight In Samarkand (1955: adapted by Lorenzo Semple, Jr. and starring Bonanza's Parnell Roberts). He wrote several novels, and one, Sabres de Bois was popular in English as Wooden Swords, a memoir about the First World War, when he worked in a supply depôt.

Two of Deval's plays received special recognition during his lifetime. His 1933 naturalistic drama Prière Pour les Vivants (Prayer for the Living) was a failure in its first production in France, but in 1964 it was accepted into the repertoire of the Comédie Française. By the time he wrote the world-famous Tovaritch in 1933, he had written more than twenty performed plays. After an initial success in France, Tovarich (as it is spelled in English) opened on Broadway in 1936 in an adaptation by Robert E. Sherwood and then became a Hollywood film the next year, starring Claudette Colbert and Charles Boyer, with veteran Group Theater star Morris Carnovsky.

Deval's frank treatment of sexual matters made him somewhat of an enfant terrible, especially in such modernistic works as the play Etienne, dealing very frankly (and humorously) with hypocrisy and infidelity, and his film Club de Femmes (1932), which more seriously deals with lesbianism and rape. Deval directed the film as well, but was devastated to see that it was cut to shreds by the censor. Both works deserve a second look, as they are among Deval's best work.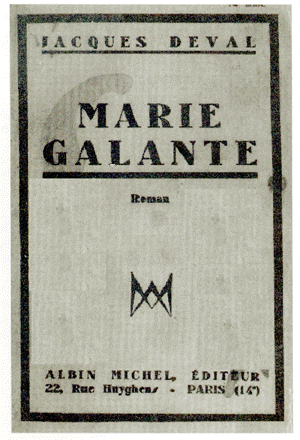 First edition of Marie Galante, Albin Michel, 1931.
Deval wanted to repeat his success with Tovaritch and make something of an industry out of his novel Marie Galante, the story of a woman who is forcibly taken to South America, and who makes her way to Panama by prostitution. Although the novel was translated as That Girl, and was fairly successful in America, the Hollywood film was not, and the French play least of all. So it is unfortunate that Kurt Weill, one of the brightest musical minds of the twentieth century, collaborated on that lowest of low-end product.
Looking today at the extant Marie Galante performance materials, one can't help but notice that the very title is ambiguous. A casual reader would logically assume that "Marie Galante" is the heroine's name. Even the screenplay writer Reginald Berkely banked on that assumption when he came to write the Hollywood version of the story (of course with the same title as the play), in which a nightclub emcee (barked by Ned Sparks) announces starkly: "And now... Miss Marie Galante!" But in the novel her name is clearly Marie Basilide. An orphan, born on the feast day of St. Basilide, Marie is given his patronym by Public Assistance. So why the term "galante?"
In French, galante can mean "elegant" (as in fête galante) or even "blessed" (Marie-Galante is the gallicization of Santa Marìa, as well as the name of an island discovered and named by Columbus—see any travel brochure on the Caribbean.) But more imprtantly, a femme galante is a woman of light habits. In the play, when asked her occupation, Marie replies with embarrassment, "I receive men." The functionary interviewing her writes in his report that she is a "fille galante—is that not the usual term?" Thus, the overtones of sainthood and harlotry are juxtaposed within the title, which seems to sum up Deval's attitude toward the character.
In the novel, Marie is a poor, young, Bordelaise who turns to prostitution as a means of survival. She is abducted onto a cargo-steamer bound for South America, and she is abandoned in Venezuela. Marie sells her body to get to Panama, where she lives in the red-light district in order to raise enough money to buy a ticket back to France (she charges two dollars--a detail that survives even in the music lyrics). She can think of nothing but returning to her homeland. Witlessly, Marie becomes involved in political intrigue. A German, Staub, pays her to spy on the Japanese businessman, Tsamatsui, who pays her handsomely to spy on the American, Crawbett; she foolishly cooperates.

Indeed she manages to buy a ticket back to France with the money, but just as she is packing to leave she is shot by an unseen assailant. Ultimately, Tsamatsui—honorable fellow after all—sends her body home in a shogun's coffin, even though he may well have been the means of her demise.
The novel, published by Édition Michel Albin in 1931, was an immediate success. Not only did it offer tantalizing themes of sex and espionage, but also investigated French colonialism, using the Panama Canal as a metaphor for France's failure to make a lasting impact on the Western Hemisphere—for we must recall that it was France that began digging the canal under Ferdinand De Lesseps, and abandoned their work long before the Americans came in with General Goethals.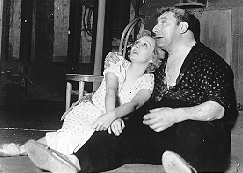 Florelle as Marie and Alcover as Staub, from

the original production in 1934

The main characters are Japanese, German, American, and French, all living in a troubled area, between the wars. The book certainly has fascinating elements, and yet the result is potboiler fiction at best. The motivations of the characters are all too obvious, and the plot does not stand up to much probing. These flaws would be forgivable if Marie offered some perceptive observations about her predicaments, but her actions are plainly ingenuous, by turn foolish, gullible, even stupid. She allows herself to be duped again and again, and her death at the end is akin to watching a dog being hit by an automobile—sad, but only as is any death which is devoid of meaning.

Hollywood's 1934 free adaptation, which starred Ketti Gallian, Helen Morgan, Spencer Tracy, Ned Sparks, and of all actors, Stepin Fetchit, rendered the novel almost unrecognizeable. The celluloid Marie, with the last name of Galante, chaste, clean, and a stylish dresser, is suspected of being a spy. Tracy plays the honorable American detective who defends Marie's innocence, falls in love with her, saves her from a nasty power plant explosion, (!) and runs off with her in an all's-well-that-ends-well ending.
While this was pre-code Hollywood, Marie's character has undergone a certain Front- Office scrubdown (in this version, Marie works her way along the coast of Panama by singing in nightclubs!) and makes a striking comparison with Deval's bedraggled, toughened streetwalker. (Obviously the Marie of the novel could not have survived the Hollywood censors.) The film garnered cool reviews, and quickly disappeared from theaters. But it deserves to be reconsidered in this context for its treatment of the characters, who, although somewhat unbelievable, interrelate better than Deval's originals.

The Hollywood flop did not prevent a stage adaptation. In an article in Le Figaro (20 December, 1934), Léon Volterra, manager of the Théâtre de Paris, states that he persuaded Deval to write the adaptation of Marie Galante after his theatre had great success with Tovaritch. But Deval's reworking of the material is so mechanical it can't be called a true adaptation. The scenes and speeches are generally taken from the novel verbatim, as though he cut the book up with scissors and repasted them for actors to speak. Obviously, such a technique reveals itself as inorganic, and results in a loss of dramatic unity; the play becomes a slave of the novel, without a life of its own.

The bulk of Deval's text is in French. Occasionally, characters speak in other languages, including Dutch, German, and a bizarre polyglot Spanish he calls "Panamanian," which often defies translation.

Each of the ten scenes in the play requires a different set, including the ramparts of a fortress, two different docks with full-sized ships (both of which are to give the illusion of movement), a consulate, two different bedrooms, and a store. In order to accommodate such a staggering load of props and scenery, a revolving stage was constructed at the Théâtre de Paris. According to a contemporary account the sets were "good reproductions, but not torn from life." (Marcel Belvianes, Le Ménestrel, Dec. 1934).

Kurt Weill had seen several of his compositions performed in France with varying success when he accepted the invitation to work on Deval's play early in 1934, possibly through the intervention of the chanteuse Florelle, who played in the French version of Die Dreigroschenoper. Weill welcomed the contribution to his scanty income, but the relationship between the collaborators was anything but cordial. On 6 April, 1934, he wrote to Lenya that "Deval is causing major headaches. He is absolutely the worst literary schwein I've ever met, and that's saying a lot. [... H]e said he could concentrate on Marie Galante 100%. So I call him today, and he says he is taking off in two weeks—for Hollywood! In other words, he has no intention of writing the play." It is evident that Deval's heart was not in the work, and the play he wrote is not up to his usual witty and incisive style—a real pity, when one considers the talent that was at work on the project.

Apparently Weill had to set aside the music for the play until late August, when it had to compete with Der Weg Der Verheißung for his attention. Marie Galante opened at the Théâtre de Paris on 22 December 1934 to mixed reviews, and closed in the first week of January 1935 (when the management re-staged Tovaritch). It has not been revived in that version since, although adaptations have been made, both in concert and staged (see below)..

Surviving Musical Material
The surviving scores and parts present certain challenges for an exact reconstruction of the musical text. Weill's manuscript scores and sketches are at Yale University, and the original performance materials are in the archives of Heugel, Weill's publisher in Paris. One of the music copyists hired by Heugel, a Monsieur Portat, turned out a work of handsome calligraphy, in spite of the limited time he had to work. The theatre band calls for forces of clarinet, 3 saxophones, 2 trumpets, trombone, percussion, piano, guitar, banjo, mandolin, accordion, 2 violins, viola, and bass.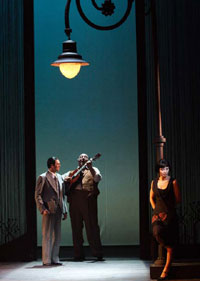 Chiara Muti as Marie and Vittorio Amandola as Staub, singing "Yo dije al caporal" in
Joseph Rochlitz' adaptation seen in Rome
Today, many audiophiles have heard the seven principal numbers from this work, which were published in a popular format songbook by Heugel in 1935. But Weill also composed additional folk-like songs for the minor characters. Most of these remain unorchestrated, but may have been accompanied by accordion or guitar. They include numbers such as "Je ne suis pas un ange" (for soloist and male chorus, with the charming lyric "I'd be the kind of angel/whose arse itches"); "L'arregolo religioso (for Mercèdes and Soledad); "Tengo quatorce años" (Mercèdes and chorus); and "Yo dije al caporal" (Staub).
According to contemporary reviews, the score was the most interesting thing about the production. Surprisingly, no critic seems to mention Marie's rendering of "J'attends un Navire," but several praise the Dance Hall scene, and the Negro Chorus as the high points of the show. It is unclear from the score exactly what music was played in the Dance Hall scene, but no doubt "M. Zorga and Mlle. Rachel" choreographed some exciting apache steps. The "Introduction" and "Scène au Dancing" are two bright numbers, one a paso doble and the other a fox trot. Additional underscoring seems to be required by the script, as a great deal of stage action and dialogue is interwoven with the dancing. The script also calls for the on-stage band members to hum their parts, but the exact music is not identified.
The Negro Chorus, on the other hand, was suggestive of the enthusiastic admiration the French had for black musicians, ranging from Dixieland Jazz to Josephine Baker and her infamous banana skirt in the Revue Nègre. (In fact, the actor playing Josiah the pimp was in real life Josephine Baker's dance partner and choreographer in 1925.) The choral number follows a scene in which Marie is caring for the dying Josiah, a kindly old black man who had worked on the Panama Canal during the 1880's. As he expires, a group of seven old men enter and pray the rosary accompanied by a musical underscore. Finally, they sing "Le Train Du Ciel" as a requiem. This music, for a baritone soloist and three-part male chorus must have made a tremendous dramatic impact and sonic reverberation in the theatre. Critic Lucien Dubech wrote in Candide (27 Dec. 1934), "the quartet for black singers... does justice to their warm voices... their vocal prowess. [It is] spiritual music in the religious sense." Another commented, "I point out the negro quartet in which the theme, spontaneously sung... gains, by the manner of its treatment, a religious intensity and creates a considerable emotional moment" (Marcel Belvianes, in Le Ménestrel: which was the house organ, by the way, for Heugel et Cie).
Two recently discovered tangos by Weill may also have been heard in Marie galante. The first, "Tango-Habanera" is an orchestral version of the song we all know as "Youkali." This is the song which Heugel issued in 1946 with lyrics by Roger Fernay. When Fernay actually added the lyrics is unknown, but it is a mistake to assume that this song is part of Marie Galante. Since the same tango appears in Der Kuhhandel, and the refrain appears again as part of Johnny Johnson, it is worthwhile to separate the various incarnations of this number, and question whether Weill used it as a last-minute addition, or whether it was used at all.
The second tango has recently been reconstructed by the composer HK Gruber from Weill's piano reduction and three surviving instrumental parts. David Drew provides a description of this newly discovered piece in his program notes to the first recording ("Berlin im Licht", Largo 5114):
[T]he piece as a whole is so strikingly redolent of the popular idioms Weill was developing in the months immediately before and after his flight from Germany in March, 1933 that it could well be a reincarnation of some long-lost song such as the "Tango Locarno" he is said to have composed in Berlin on a text by Günther Weisenborn. In any case, the Tango is clearly a companion piece to the inspired arrangement of "Song of the Hard Nut" from Happy End (1929), which Weill made for a Dance-Hall scene in Marie Galante.
M. Portat's score, when studied in conjunction with the script's musical cue sheet may provide valuable cluies to the musical ordering and scene-change music. The cue sheet indicates 26 musical cues, with many numbers repeated, but most of the incidental "folk songs" omitted. Scrawled on the manuscript are indications for scene-change music, some of it probably required to cover the noise of the turntable. Typical indications by the conductor are "play from measure 2 through to the second verse" and "take this 4 times." Furthermore, the music cue sheet indicates several reprises for "J'attends un Navire," a song which the authors rightfully hoped would have a life independent of the show. In this song, Marie pines for her homeland, and awaits a ship to take her away. The poetry of the lyrics is transcendent, and parenthetically, the lyrics Deval produced for all the songs are of a quality much better than the play text.
Several of the songs from Marie Galante did achieve notoriety in Parisian clubs and on popular recordings. Florelle, the original Marie, recorded four of the songs; "J'attends un Navire" became a song for the Résistance during the War; today, singers ranging from Teresa Stratas to Ute Lemperer and Angelina Réaux sing songs from Marie, with no contextual explanation. Since 1987, various chamber ensembles perform principal selections from the show, with a soprano singing all the songs. This has the effect of tearing all the songs from the context of the play, and gives the false impression not only that Marie is the sole character who sings in the play, but that the words being sung are from her point of view. This is especially injurious with regard to "Le Train du Ciel" and "Filles de Bordeaux." In addition, the linking music and shorter, minor songs, are usually omitted, presumably because they do not create a fitting effect in concert presentation.
The concertization of Marie Galante only begins to impart the essential quality of the music. The drama, in its present form, is not much suited to modern tastes, even as a period curiosity. Perhaps a viable adaptation will find its way into production and provide the music with a meaningful foundation upon which to build, for the songs promise to produce a more profound effect when they are presented in a dramatic context and sung by the characters for which they were intended.

An Update (2009)
Now that Joseph Rochlitz has produced a beautiful adaptation of Marie Galante in Rome, and another production has been assayed in New York, one would think that the fate of this work should be improved. However, it does not seem to be yet.

The book simply can't be overcome, it seems. Everyone loves the music, everyone hates the book. It does not help that the rewrites try to make it sexier, or that the staging tries to be more engaging as though it were a story about a sexpot from Babylon. Poor Marie, trying to make her way back home--the theme of the play--seems to be lost. While she is no longer waiting for people to re-discover the play, no one can put her back into her original 1934 context.
Here is a gorgeous montage of scenes from the Rome production. There are more photos from key moments in the play at the photographer's website. And while the totality is quite lovely--one can't help but wonder "is it what Deval intended?"
But did Deval even have any intentions?! That, I am afraid, is the question.